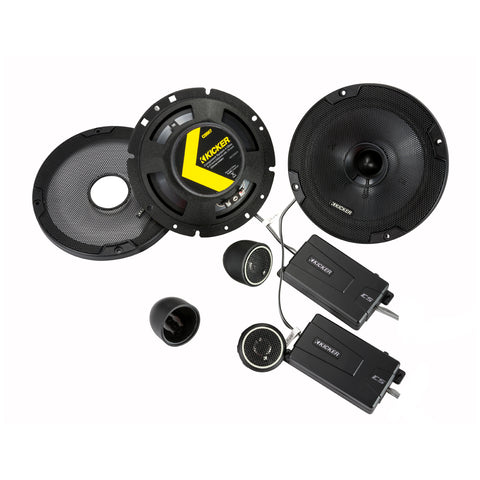 KA46CSS674
CS 6.75" (165 mm) Component Speaker System
The CS Series delivers remarkable performance and ultra-clean bass, utilizing a heavy-duty motor/magnet structure featuring EVC (Extended Voice Coil) technology not found in stock speakers. They use polypropylene cones with tough, ribbed, UV-treated surrounds for precise linear excursion and reliability.

The CS-Series 6-3/4-inch Component Speakers are built for awesome sound that plays as long as the ride takes you.

CS-Series components include titanium tweeters and two-way crossovers. Easily customize your sound with a smooth 12dB slope and three-position tweeter adjustment switch (0dB/+3dB/+6dB). The optimized footprint means great sound with hassle-free installation, no matter where you mount it!

Mount the tweeter with the flush, angled or surface-mount tweeter pods, for outstanding imaging and a sophisticated look.

These CS-Series speakers work best with 100 watts of recommended power. See below for more details.
Recommended Amplifiers
KA43DXA2504
KA43CXA3004
KA43CXA6005
KA44KXA4004
Some amplifiers may require bridging in order to provide the recommended power)

- Woofer - 6 3/4" (165 mm)
- Tweeter - 3/4" (20 mm)
- Peak Power - 300 W
- RMS Power - 100 W
- Frequency Response - 35-21k Hz
- Woofer Mounting Hole Diameter - 5 1/2" (140 mm)
- Woofer Bottom Mount Depth - 1 13/16" (47 mm)
- Tweeter Hole Diameter - 1 9/16" (40 mm)
- Tweeter Mount Depth - 9/16" (14.5 mm)
- Bolt-Thru Grilles - Included
- High Pass - 12 dB at 4000 Hz
- Low Pass - 12 dB at 4000 Hz
- High Frequency Output Attenuation - 0, 3 & 6 dB
---